November 6-9, 2023 | Nashville, Tennessee
Your Synergis Family and Adept Community, All Together
Adept Experience is the only event where you can learn, share and connect with knowledge experts from Synergis and the Adept community. Make lasting connections with your peers, give input to our roadmap, and gain insights and expertise that will propel your company to a new level of operational excellence.
Why Attend Adept Experience
Need help justifying your attendance at Adept Experience 2023? Get a sample justification letter to give to your management.
Don't Just Take Our Word for It...
Past Adept Experience attendees are still raving about the moments they remember most.
Christopher Wood
Adept SME, Dow Chemical
"This has been my second Adept Experience and probably the most that I enjoyed was the ability to network with other folks and other companies."
"I also had the privilege of presenting some of the things we're doing at Dow and the ability to share that and possibly help to influence the future direction of the Adept product has been fantastic."
Karyn Dawes
Configuration Manager, Fluid Components International
"I would say my best experience so far has really been the connections in meeting people from other companies, seeing how they're using Adept and having some "aha" moments like I actually had this morning on how we can possibly improve our process based on how another company is using the system."
Earlene Gibbons
Senior Director Operational Technology, A Biotech Company
"The conference had great learning sessions, but in addition to that we also had some really fun things that we were doing--some exercises that really not only helped with the networking but gave us ideas to take back to our companies and use there."
Steve Danasko
Enterprise Solution Specialist, Greene Tweed & Company
"I met a lot of new people this time and I'm looking forward to helping them through their initial implementation."
"We had the off-site event on Wednesday night and brought my wife and actually introduced her to the Synergis family. My wife really enjoyed meeting all these individuals that I talk about all the time. It was great."
Randy Nettles
Senior Software Analyst, Dow Chemical
"It's always great to get together with a community like this and hear about the stories and about the experiences of other people and how they are able to implement Adept in a way that's different than we've done. It helps to spark creativity so we can go make the system we have even better."
Mark Hastings
Vice President, Product Engineering, Visa Lighting
"They take very good care of us. The presenters are great. I especially liked the keynote speaker that was here—it was very inspirational."
"I like the networking events because it exposes you to a lot of different types of industries. It's a unique experience in having that cross-discipline learning."
Brian Cranston
CAD Administrator, LSI Industries
I think it's a great way to network. It's really easy to be isolated in your own world just working on this day to day so it's great to come and meet other people who are doing the same thing as you.
Teresa Yang
Product Manager, Document Management Systems, Dow Chemical
"I feel the best part in this conference is to listen to the other company's successful story. That's inspiring me to see how there was the problem they faced; how they solved the problem with Adept. That's been the best learning experience for me."
Jessica Riley
Contract Deliverable & Data Manager, Eastern Shipbuilding Group
"Getting insight into how other users are utilizing Adept has been invaluable. Being able to see how other users are using the software you realize, 'I didn't even consider that. That's going to solve a problem for me.' There's so much I'm taking away from it. I'm so glad that I came."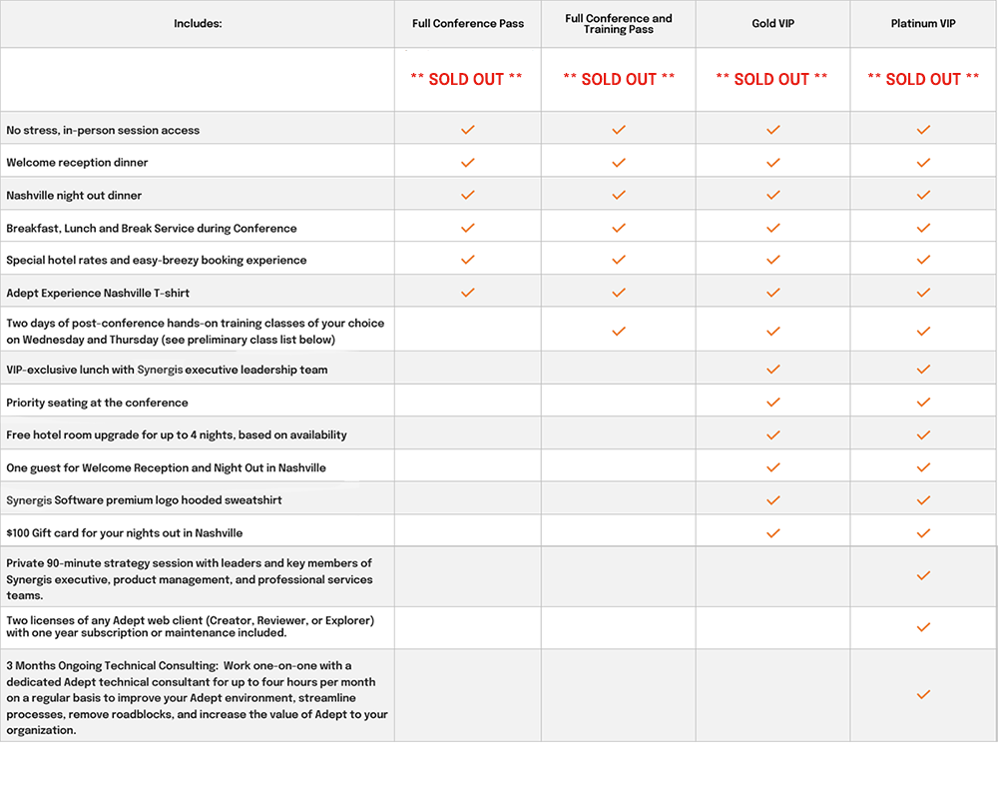 Sheraton Grand Hotel Nashville, TN


Awarded Trip Advisor's Travelers Choice Award in 2021, the Sheraton Grand hotel in downtown Nashville is located near attractions like the Nashville Historic District, Music City Center, the Tennessee Performing Arts Center, Nashville Convention Center, and more. Rooms feature luxury bedding, high-speed Wi-Fi, and HDTVs. You can even listen to your favorite vinyls in your room with the hotel's record rentals. Stay on top of your fitness in their 24-hour, fully equipped fitness center featuring Peloton bikes.



Hotel Registration Phone: 615.259.2000

Mention "Synergis Group" to get the special event rate of $259 per night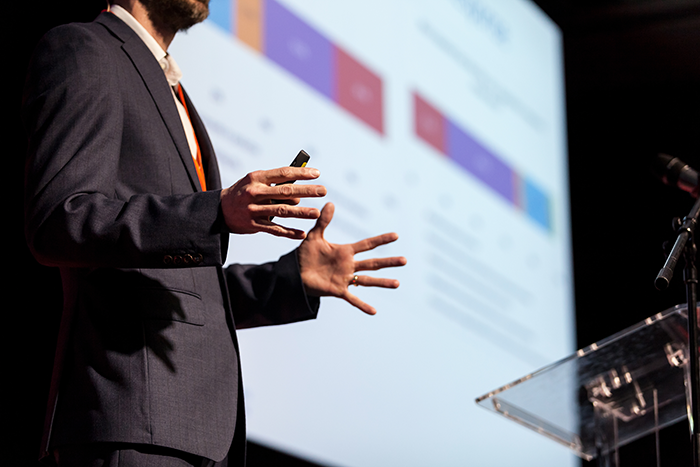 Call for Presentations
We are seeking presentations about the ways Adept brings value to your organization. Topics that feature Adept as a global solution for collaboration or highlight business process automation, including best practices, lessons learned, and any unique and innovative ways you are using Adept at your organization.